Decorative water features are a unique and beautiful way to give your landscape a fresh look. Fountains and Patio Ponds are quick and affordable landscape ideas to add a splash of water to your outdoor living spaces. We've gathered some of our favorite water features for small spaces to inspire you to add the sound of water to your gardens.
Entryway Elegance
The front door is a guest's first impression of your home, so why not make a grand entrance! Adding a fountain to your front yard by your porch, steps, or path to the front door will draw in anyone coming to your doorstep.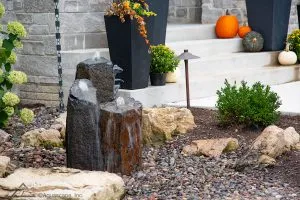 Many Different Options and Fountain Accessories
Aquascape offers many different styles of fountains to fit your unique style and the design of your backyard. From spheres, to urns, to stone columns, there is something for you to fit in with the aesthetic of your garden.
Nighttime Sights & Sounds with Fountain Lights
Adding a touch of water to your backyard is simple and easy with Aquascape landscape fountain kits. The soothing sound of water cascading over the edges of a decorative fountain create a paradise in your own backyard. Don't forget to add color-changing fountain lights at night to enjoy the water when the sun goes down and add a splash of color to your landscape.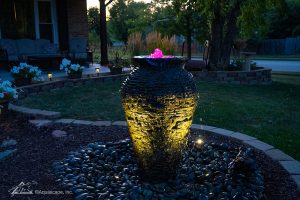 Bird Bath
Birds and butterflies enjoy visiting outdoor fountains to enjoy a refreshing splash or nourishing drink. Every nature lover will enjoy the benefits of decorative small space water features. And why stop with just one fountain?  Place them in nooks and crannies throughout your garden spaces and attract many of nature's beautiful creatures to enjoy your outdoor lifestyle.
Mix Fire & Water with a Fire Fountain
One of the fastest-growing trends in outdoor living features is the combination of fire and water. Our popular Fire Fountain creates a soft, pleasing sound of water as it flows over and around the pebbles. Check out Aquascape fire and water features to dazzle everyone who steps in your yard. Fire adds a surprising element that looks great at night, too.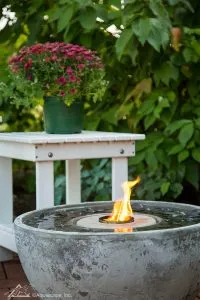 A Unique Focal Point
Guests to your house will be drawn to the beauty a fountain feature provides with the soothing sound of water. Living the Aquascape Lifestyle® is easier than ever with a fountain feature that will be the centerpiece of your backyard or garden, creating your own little utopia.