Learn how to build a DIY pond in your own yard. The Aquascape approach to backyard ecosystem ponds is to create a complete low-maintenance system that works with Mother Nature to provide food, shelter, and safety to the wildlife in and around it. A well-built ecosystem pond provides a proper balance of circulation, filtration, plants, fish, and rock and gravel.  Explore the videos and articles below and learn how easy it is to build a do-it-yourself pond in your yard. Then, visit the Aquascape Pond Shop and Inspiration Center or shop online to get started today!
How to Build a Backyard Pond
See how easy it is to transform your outdoor living space with the Aquascape DIY Backyard Pond Kit! Routine pond maintenance is minimized when you use the Aquascape ecosystem approach to creating your garden water feature with an easy-to-install do-it-yourself kit. Watch TEAM Aquascape as they take you through a detailed step-by-step tutorial of how to build a backyard pond and completely transform your yard.
20 Steps, 20 Products
Watch as TEAM Aquascape installs a 11' x 16' ecosystem pond. VP of Aquascape Construction Brian Helfrich takes you through a day on the build site and gives you tips and tricks along the way to help in your pond installation process. Learn how to build your own pond by following our tried-and-true 20-steps, 20-products process!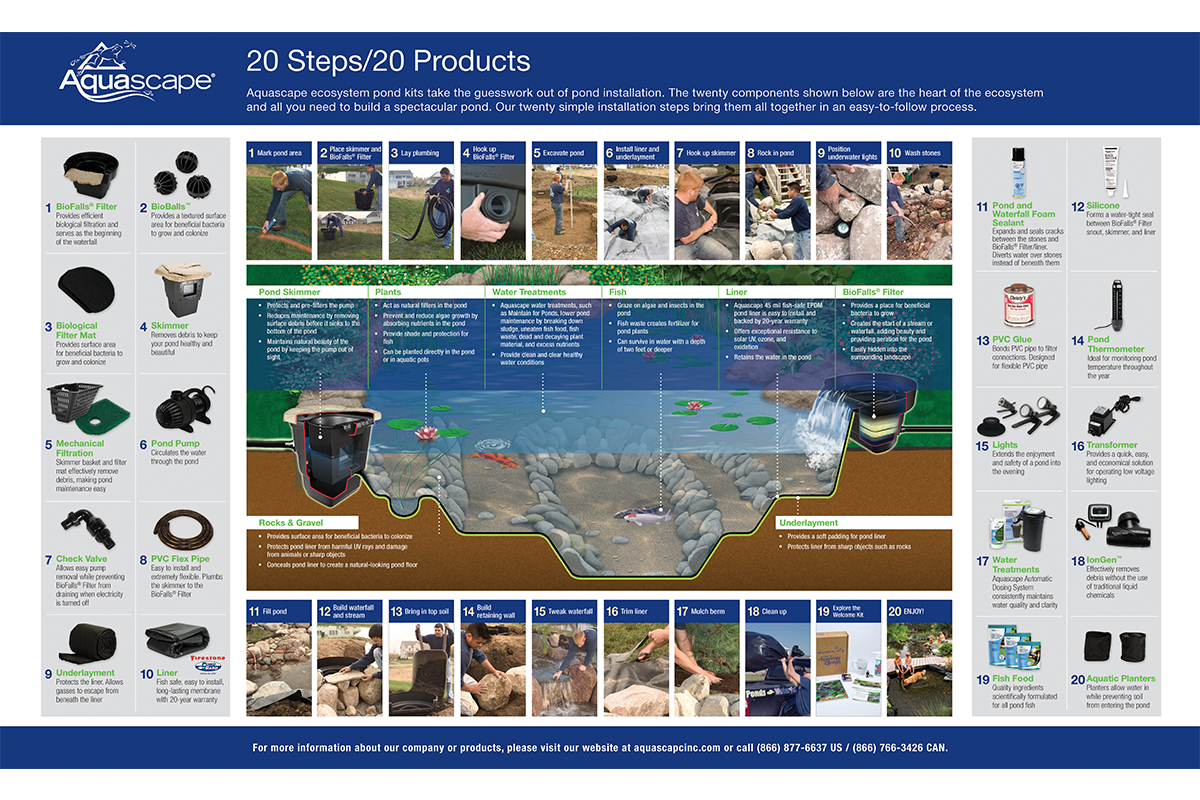 20 Steps, 20 Products Infographic
Learn more about the 20 products you need and the simple 20 steps you take to build an Aquascape ecosystem pond by downloading this guide.
Composition of an Ecosystem Pond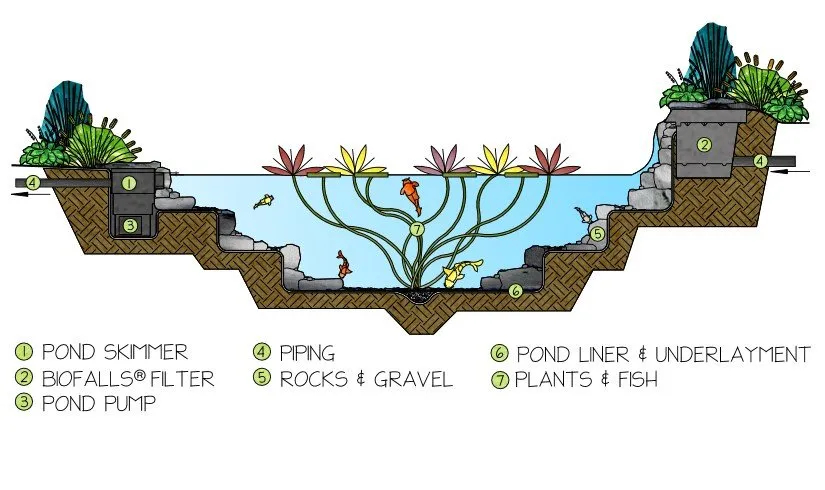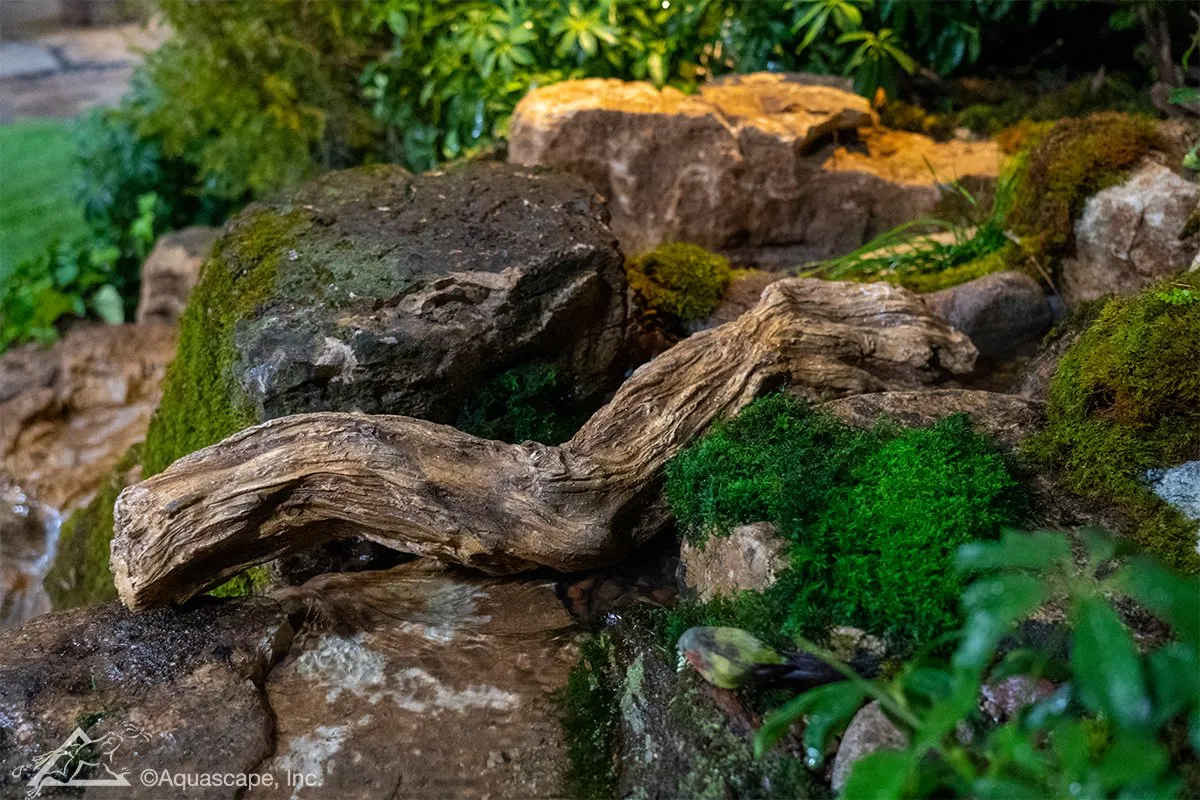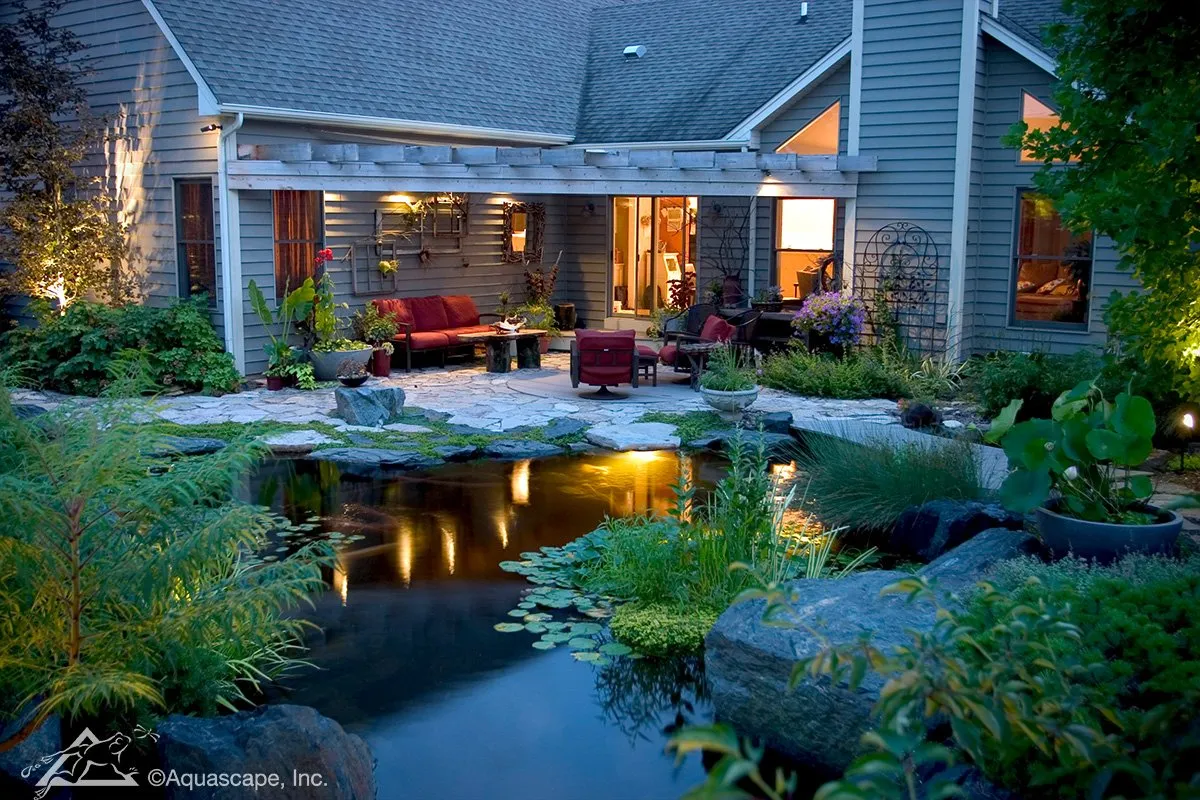 Lighting Ideas for Your Pond
Continue enjoying your water feature as the sun begins to set by adding outdoor lighting. Most people add landscape lighting around a patio or deck, but don't forget to light up your water feature for beautiful nighttime views across your whole backyard! Here you'll find some backyard lighting ideas for your pond and garden.
Aquascape Pond Kits:
Aquascape pond kits come complete with everything you need to build a beautiful ecosystem pond in any space. DIY pond kits take the guesswork out of having to choose each individual part yourself which saves time, money, and headaches. The included filters and pump are expertly selected to ensure proper filtration and circulation for the size of pond you want to build. A variety of DIY pond kits are available to accommodate a wide range of budgets and include everything you need to get started today.
Ready to Start Building?
Get everything you need to build the pond or water feature of your dreams at the Aquascape Pond Shop and Inspiration Center in St. Charles, IL, or online at aquascapeinc.com. Visit us today to get one of our ready-to-build kits or customize your product selection to build a water feature that is uniquely your own!